Are you looking to base yourself in the tech epicentre of the UK that is Old Street, but not sure which flexible office space is right for you? In this blog, we review the best flexible office space currently available.
It's pretty clear that the flexible office market has boomed over recent years and continues to grow. Although generally more expensive than traditional leasehold space over the mid/long-term, companies clearly see the added value a good flexible office provider can offer. Such as, having greater flexibility of term, all-inclusivity of costs and being part of an energetic business community.
Predictably, the increase in demand for flexible office space had caused a sharp rise in flexible office providers, so It can be challenging to find the right space and provider for you and your business.
You are no longer just taking office space but also adopting a business environment, it's community and services. That being said, flexible office providers generally offer a similar product – Outrageously attractive staff, exposed services, collaboration zones with a steady supply of caffeine (and sometimes alcohol) based beverages, a vibrant community of different businesses and high-density private office rooms. However, there are also some significant differences between flexible office providers, and it's very important to consider these before a decision on workspace is made.
In this blog, after inspecting all coworking and serviced offices spaces In a close proximity to Old Street, we explore (in no particular order) the pros and cons of what we think are the top 5 coworking/Serviced Office workspaces near Old Street, London.
WeWork
Finsbury Pavement, 145 City Road & 41 Corsham Street
With three substantial facilities all within close proximity to Old Street. Who else can it be, but the global coworking machine that is WeWork!
Most people have heard of WeWork. They are the biggest coworking provider in the world with 270 facilities across the globe and rapidly expanding.
Originating in New York, USA what started as a relaxed and cool place for start-ups and freelancers to do their work and meet with other like-minded people has now evolved into a mammoth provider of flexible office space which now attracts larger corporates tenants as well as the small start-ups.
What WeWork does really well is community and location – Also, free beer helps! Once you are a member of one WeWork you have the ability to move around the global WeWork network for normally no additional cost. This is a great perk for companies that have international clients or want to rapidly grow their international offering.
So what are the facilities like near Old Street? Well like all WeWork locations, it follows a similar design and layout with large shared communal areas, exposed services, comfy seating and then floors of glazed boxes containing desks, chairs, pedestals and a fast internet connection.
The Finsbury Pavement location is well located between Old Street and Moorgate station and very close to Liverpool Street station so very well connected. Not long opened, the atmosphere was quiet and relaxed upon our inspection so a good option if you are looking for a peaceful WeWork facility.
41 Corsham Street is only a short walk from Old Street station and has a vibrant community. The innovative energy is palpable as you walk through the doors into a mini-metropolis containing various companies and freelancers doing business with great enthusiasm!
145 City Road is their brand-new facility which was being developed at the time of our inspection but should be completed once this blog is published. Literally around the corner from their 41 Corsham location but on a much larger scale, this we feel will be WeWork flagship location for Old Street.
Pros: Extensive global network to travel between, Vibrant community, Spacious collaboration zones, Great locations, good range of organised networking events and workshops, collaboration phone application for members.
Cons: Generic glass-box offices, high-density of people so can get noisy, does sometimes feel like being back at university,
Price:
145 City Road & 41 Corsham Street: 5 person office circa £3,900 per month (£780 per desk per month)
Finsbury Pavement: 8 person office £5,300 per month (£662 per desk per month)
[themify_button bgcolor="orange" size="large" class="themify_lightbox" rel="noopener" target="_blank" link="http://basedhub.com/book-viewing"]CLICK HERE TO BOOK A VIEWING[/themify_button]
Mindspace
9 Appold Street, EC2A 2AP
Mindspace originated from Israel, and now has 13 location across the globe with the majority of space in Europe.
The cool and contemporary coworking provider has become a popular space for creatives and small businesses who thrive in the exciting start-up environment that Mindspace work's hard to create.
They have recently raised $20 million to help further expand into the US. Although this is a relatively small investment compared to WeWorks $4.4 billion raised in August, it will certainly help them grow their portfolio and membership to become a great WeWork alternative.
Once a Mindspace member you get access to other centres worldwide so you will be able to co-locate yourself in one of their impressive locations and network with the membership across the globe.
The Appold Street location has a very relaxed atmosphere helped by large open spaces, comfy seating and middle-eastern décor.
The reception and adjoining communal area feel very welcoming and there is a large kitchenette area where members can chat over fresh coffee.
Once past the main communal area you enter the private offices which are similar to WeWork in style given that they have glazed semi-transparent frontages but their fit-out feels a little more comfortable influenced by their timber vinyl flooring and dimmed lighting.
The private offices themselves are pretty standard consisting of desk, chairs and pedestals but the positioning and aspect of the building provide some excellent views across East London. Furthermore, there are plenty of large boardrooms and smaller meeting rooms for members to book at an extra cost.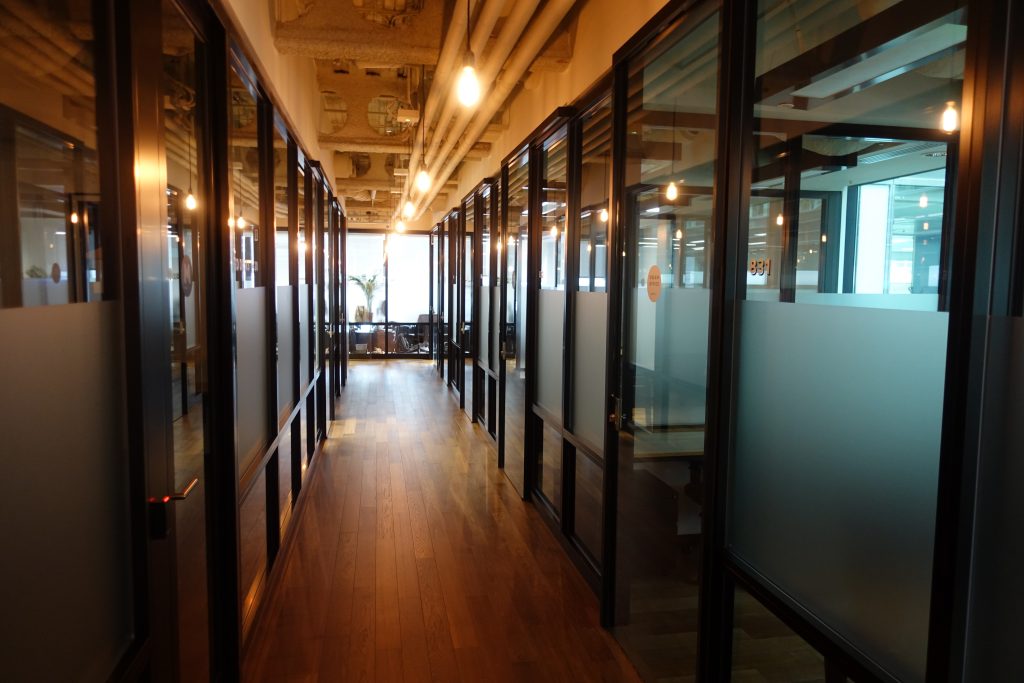 In terms of location, the space is situated closer to Liverpool Street Station than Old Street but is only a short walk to the bustling Old Spitalfields market and Shoreditch so certainly in a prime location.
Pros: Very creative community feel, large open spaces, homey décor, great views, good portfolio of location to work across, extra flexible agreements.
Cons: 10min walk from Old Street station, no phone application for members to collaborate, generic private offices.
Price:
6 person office goes for around £4,140 (£690 per month per desk)
[themify_button bgcolor="orange" size="large" class="themify_lightbox" rel="noopener" target="_blank" link="http://basedhub.com/book-viewing"]CLICK HERE TO BOOK A VIEWING[/themify_button]
The Office Group
81 Rivington Street, White Collar Factory
The Office Group or "TOG" are another giant in the London coworking world. They have space all over the city, including multiple floors within prestigious landmark buildings like the Shard and the White-Collar Factory.
Often referred to as a more serious version of WeWork, TOG provide large open communal areas, coffee on tap and plenty of networking opportunities. Their private offices are often more private than their competitors with solid partitioned walls rather than glazed frontages.
TOG have two facilities nearby to Old Street – 81 Rivington Street and the famous White-Collar Factory building situated on the tech-roundabout.
81 Rivington is one of their very first buildings and is positioned in a very hip and artistic area of London. It benefits from a roof terrace with fantastic views, large conference rooms and adjoined balconies to some of the private offices. The building is a period property which means that the spaces are a little confined with restricted natural lighting but certainly packed full of character.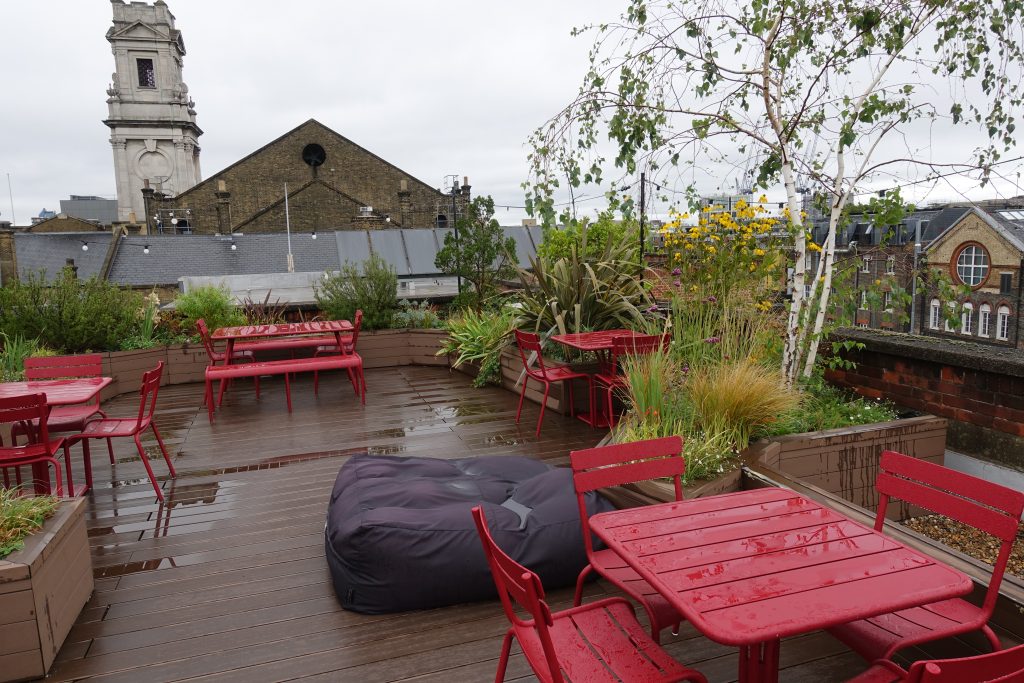 The White Collar Factory is a new building positioned right beside Old Street underground station. The building comprises of an impressively large lobby area, in-house café and roof-top bar. Oh, and also a rooftop running track for those of you who love running and don't have a fear of heights!
TOG occupy several floors within The White Collar Factory, although most offices were snapped up by existing TOG members so their vacancy rate is always very low.
The layout is similar to TOG's other modern facilities, consisting of large open communal areas and backroom private offices. TOG do tend to have a different style of décor on every location and on this they have appeared to favour exposed timer partitioning – makes you think sometimes that these providers are driving the trend for exposed and raw services to save material costs! Nevertheless, large open spaces, a minimalistic style and lively community provides a nice environment to work from, and I imagine their roof-top parties are pretty legendary!
Pros: Lots of facilities across London to work from, vibrant community, couldn't get closer to Old Street Station if located in their White Collar Factory location, less generic and more private feel too private offices, mature working atmosphere, have a members networking phone application.
Cons: Lacking an international portfolio, 81 Rivington Street is a little bit pokey.
Price:
White Collar Factory: 5 people for £3,770 per month. (£754 per month)
81 Rivington Street: 5 person for £3,190 (£638 per month)
[themify_button bgcolor="orange" size="large" class="themify_lightbox" rel="noopener" target="_blank" link="http://basedhub.com/book-viewing"]CLICK HERE TO BOOK A VIEWING[/themify_button]
Fora
71 Central St, London EC1V 8AB
Fora, is a new coworking provider with a focus on providing extra hospitality and embracing cutting-edge technology. The entrance looks more like a restaurant than a place of work, probably because it is! They have a restaurant in the ground floor run by a MasterChef winner.
Behind the restaurant, you head into an area for workshops to take place, which look's like a mini TED talk stage, perfect for inspirational seminars!
The private offices are all very high-tech with three-quarter partitioning and noise cancellation technology to reduce noise pollution, which is a common problem amongst most coworking facilities.
In addition, the space benefits from a library and high-end shower room with lockers. You really get a feel of high quality infused with state of the art technology when walking through the space. There are even electronic-tablets in every meeting room where you can order in food and drinks at a click of a button (or swipe of a finger)
Location wise this facility is a 10 min walk north from Old Street station which probably makes it the least ideally positioned facility, but if you don't mind a short walk then this amazing and unique facility is certainly worth a look.
Pros: Very high-tech, Similar to a business incubator they really help nurture your business, Eloquent décor, Superb hotel-like hospitality.
Cons: Location, Looks more like a restaurant than office space from reception
PRICE:
8 person office at £6,000 (£750 per desk per month)
[themify_button bgcolor="orange" size="large" class="themify_lightbox" rel="noopener" target="_blank" link="http://basedhub.com/book-viewing"]CLICK HERE TO BOOK A VIEWING[/themify_button]
Campfire
81 Paul St, London EC2A 4NQ
Campfire is a newly launched coworking space which has roots in Hong Kong. There is not a huge community currently in occupation due to its infancy, but as time passes I'm sure this will be a popular option due to its reasonable price and great location.
The space benefits from a large event space in the basement with tea/coffee facilities and all other amenities you would expect from a modern coworking provider.
The private offices are a little basic but fit for purpose. You get a feel of functionality rather than style but the sizes are generous.
They are incentivising early adopter so there are some great deals to be had on this space. A good option for a small business with a lower budget that wants to be part of a growing coworking community.
Pros: Relatively inexpensive, good deals currently being made as early adopters, Spacious, growing international portfolio to utilise.
Cons: New space so no real community as of yet, décor is a little plain.
PRICE
5 person office is £3,000 (£600 per month)
[themify_button bgcolor="orange" size="large" class="themify_lightbox" rel="noopener" target="_blank" link="http://basedhub.com/book-viewing"]CLICK HERE TO BOOK A VIEWING[/themify_button]
We at Based Hub would recommend all of the above flexible spaces for any company looking to base themselves in the tech epicentre of the UK!
To arrange a FREE viewing on any of these spaces or if you wish to instruct us as your advisor and representation please CLICK HERE.
Written by Matt Perkins MRICS (Founder of Based Hub)